Angler Spy™ for Marina Owners
We'd love to add one of our Internet Connected water temperature sensors to your marina. It will provide free exposure for your business, content for social media, and accurate information for current and potential customers. Your marina will see 50,000+ pageviews annually on our website, at no cost.
What is Angler Spy™?
Angler Spy™ provides realtime water temperature readings from your marina. Once we've installed our small reporting unit (about the size of a cell phone), your marina will be reporting water temperatures every 15 minutes, 24/7/365, for all to see on the Internet.
Your marina's water temperature will be displayed on our site, along with your marina name, a link to your website, and your logo. In recent tests, our first marina received upwards of 40,000 pageviews on their listing on our website in 2018.
Your marina will also Rank #1 in Google searches for 'water temperature ___(your lake)___' in time after installation. This means more exposure and more business.
How Does This Work?
Easy. We'll install a small device that is connected to your Internet Router. It will have a low-voltage waterproof sensor that will be 1′ below the water surface. That's it. We take care of the rest. We embrace industry standard security protocols.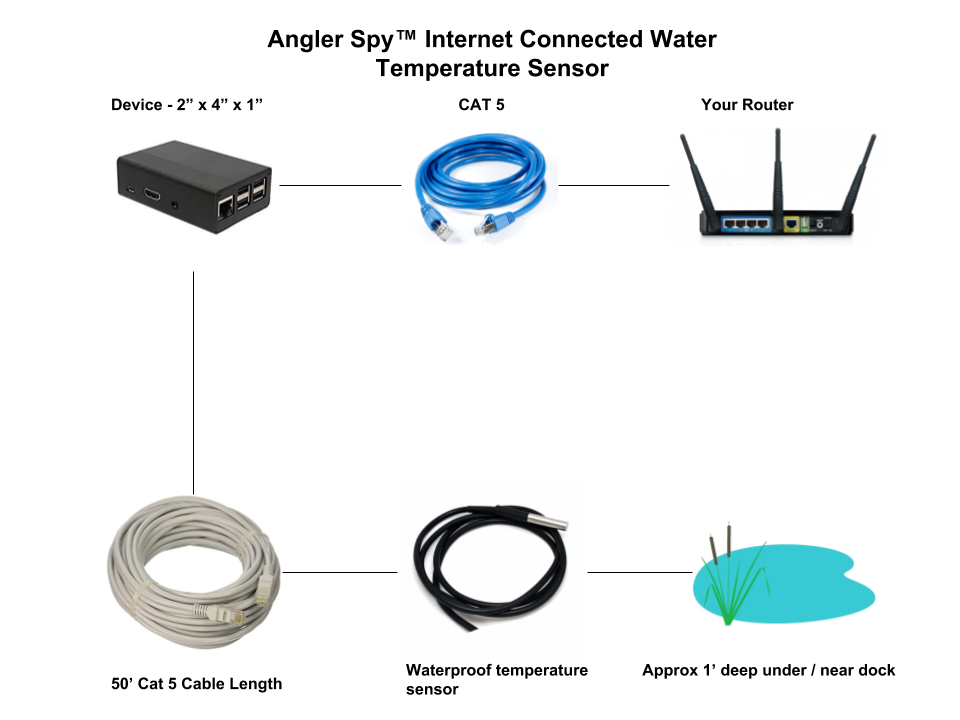 How Much Does It Cost?
Nothing. We'll do the install, provide the equipment, and maintain your listing. You get exposure for your business, we get to show off the water temperature. Pretty simple.
What Is The Benefit To My Marina?
Exposure. Our pilot marina, Indian Point Marina on Table Rock Lake near Branson, Missouri, saw over 40,000 pageviews on their listing on AnglerSpy.com in 2018. Your listing will have your name, your logo, and a link to your website. You can gain a significant amount of exposure for no cost by hosting one of our internet connected water temperature units.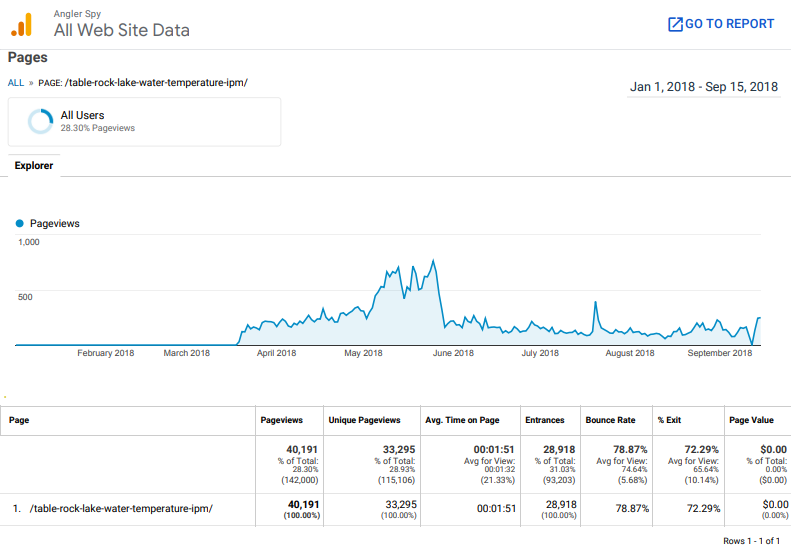 Remember, fishermen (and women) as well as recreational lake goers are interested in the water temperature of your lake.
Additionally, we're active on Social Media and will work to provide your business regular added exposure when possible.
Does It Require On-Going Work?
Not really. Every now and again, we may ask you to 'power cycle' the unit. This simply means 'unplug it, then plug it back in' so that it will reset. No big deal.
Ready To Get Angler Spy™?
Request Angler Spy for Your Marina