Current Table Rock Lake Water Temperature and Lake Level from Indian Point Marina in Missouri. Water temperature reading updated each hour from 20′ below surface by Angler Spy's equipment. You have found the best source for current & accurate water temperatures and conditions for Indian Point Marina on Table Rock Lake.

0
11
5
0
Table Rock Lake Water Temperature & Lake Level At-a-Glance
Temperature from a depth of 20′ (20 feet).
7-Day & 30-Day Historic Table Rock Lake Water Temperature Trends
Table Rock Lake Live Webcam Stream
Thanks to Branson Lake Lodge for the webcam you see below.
Current Weather Near Table Rock Lake
Table Rock Lake Water Temperatures by Month
We broke down our water temperature data from Table Rock Lake and created a post specifically for average monthly temperatures. Here is a graph of average Table Rock Lake water temperatures by month: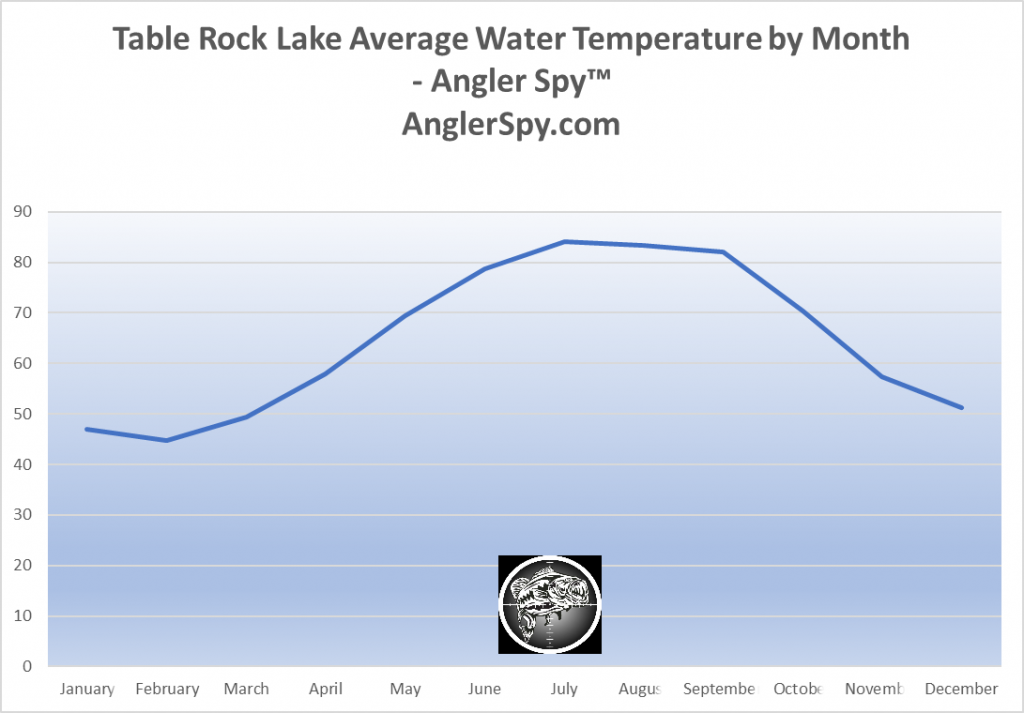 Table Rock Lake Fishing Reports
Pete Wenners Table Rock Weekly Fishing Reports – this is a Youtube channel. Pete usually posts up a new video each week. Highly informative information for Table Rock.
Table Rock Lake Fishing Forum – excellent resource for current fishing reports from Table Rock Lake.
Table Rock Lake Fishing Guides
Mike Boyles Professional Angler
Eric's Elite Guide Service
Focused Fishing Guide Service
Table Rock Guide Service
About Table Rock Lake Water Temperatures
Table Rock Lake's water temperature varies throughout the year. Surface water temperatures can range from near or below freezing (in shallow coves) during winter to as high as 90° during the summer months. Angler Spy's water temperature unit at Indian Point Marina has recorded a surface water temperature of 90.5° during August. Spawning temperatures usually occur in Spring, from mid April through May.
More About Table Rock Lake
Table Rock Lake is an impoundment of the White River created by Table Rock Dam near Branson, Missouri and Beaver Dam in northwest Arkansas. It is classified as a highland reservoir, with beautiful clear water surrounded by the rolling Ozark Mountains. Fish species in Table Rock include Kentucky Bass, smallmouth bass, largemouth bass, goggle eye, bluegill, various catfish, walleye and more. Table Rock Lake has nearly 900 miles of shoreline and is a fishing & boating recreation in the Midwest. Table Rock Dam is part of what created Lake Taneycomo. Cold water from the depths of Table Rock feed Lake Taneycomo and keep water temperatures perfect for the trout fishery. See Lake Taneycomo water temperatures.
Other Missouri Lake Water Temperatures
Lake of the Ozarks Water Temp, Level, Current Conditions
Stockton Lake
Lake Taneycomo
Bull Shoals Lake (Arkansas)